Q&A with Jarrod Lichty, VP of Product
As Vice President of Product at Aerial Vantage, Jarrod Lichty brings forth a colorful and extensive background in aviation for use in his day-to-day work spearheading the company's flagship product, Accelerate. 
In this Q&A, we dive into Jarrod's role in helping Aerial Vantage's customers reap the benefits of drones with advanced geospatial intelligence technology by collaborating with customers and shedding light on the impact and benefits Accelerate makes across a range of industries.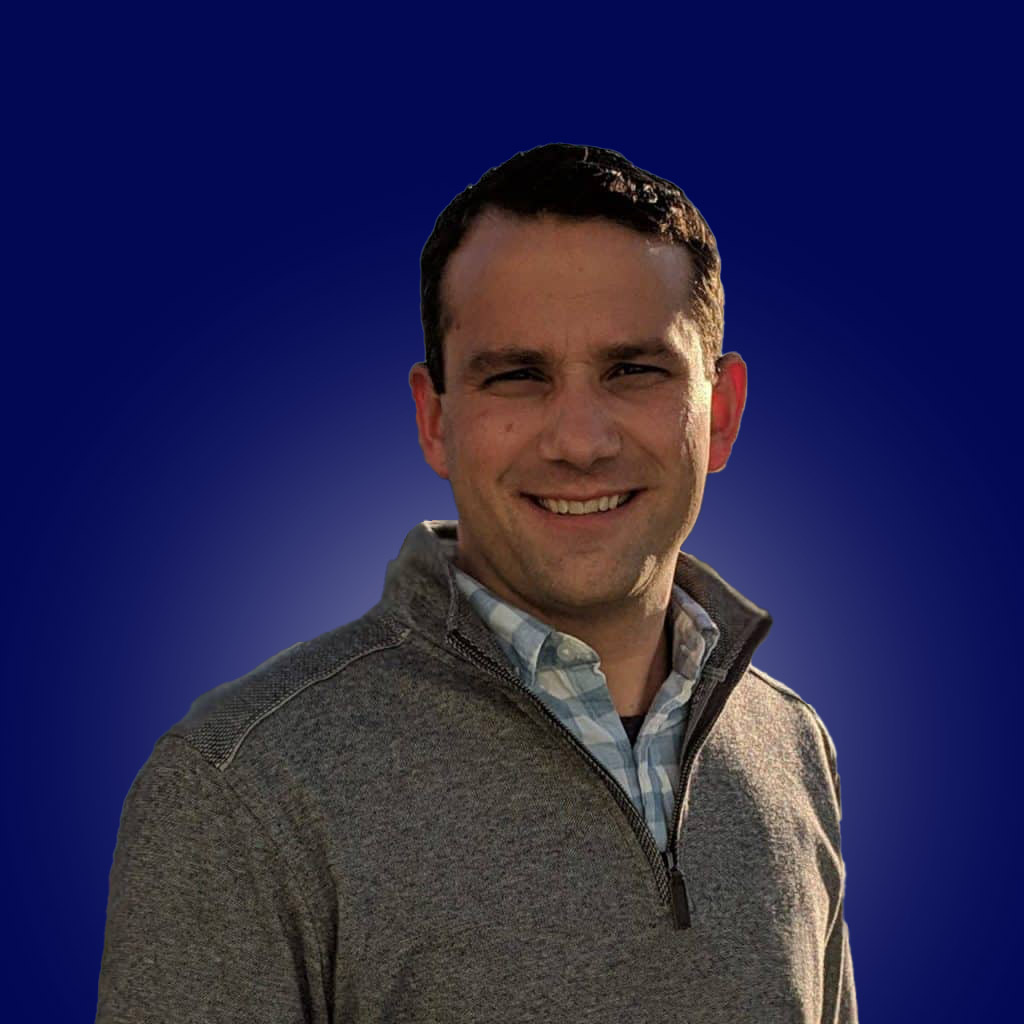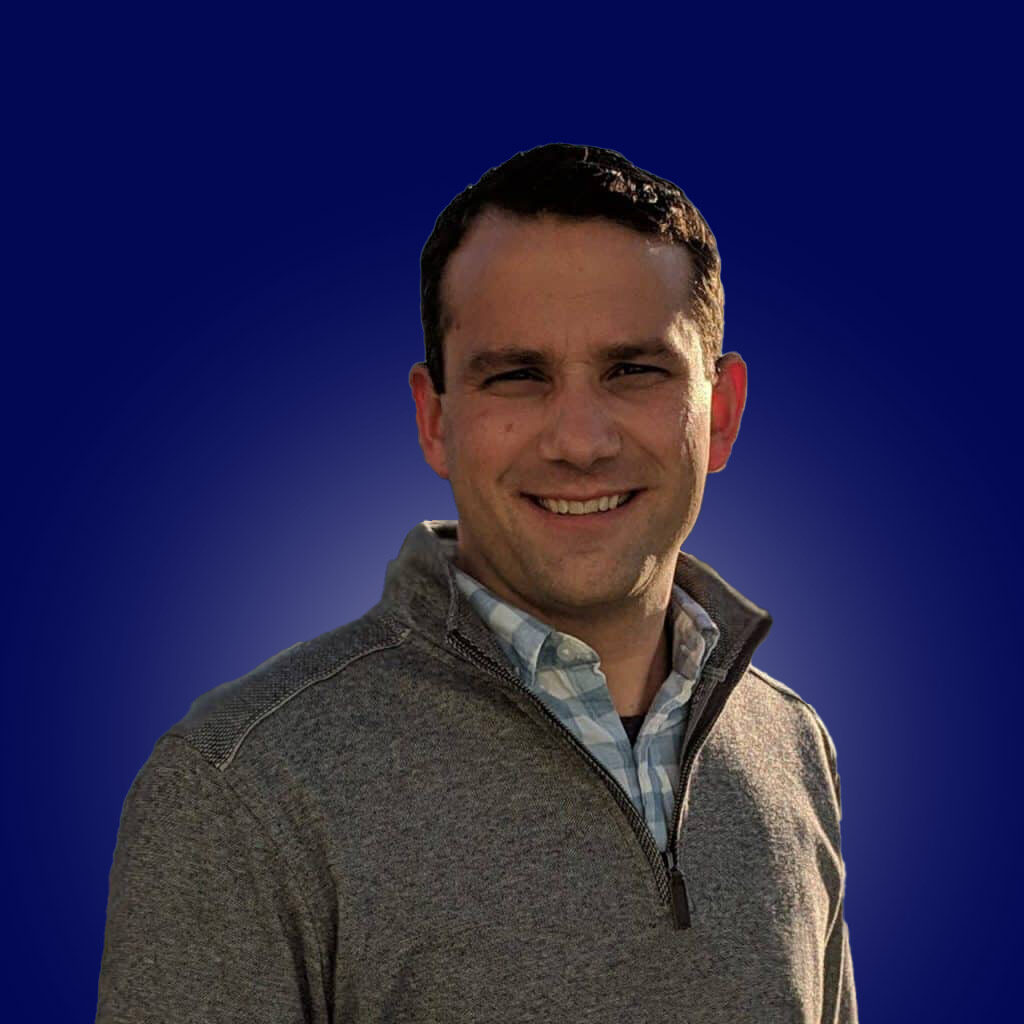 1. What is your role at Aerial Vantage?
Aerial Vantage's VP of Product Jarrod Lichty touches various facets of the company with the goal of ensuring all team members are internally aligned on the vision of its product, Accelerate. 
He describes the role as cross-functional, rolling up his sleeves and dipping his hands in departments such as sales, development, as well as consistently meeting with the CEO to ensure alignment of business goals. 
Most importantly, Lichty serves as the voice of the customer, keeping his ear to the ground for feedback on customer sentiment as Aerial Vantage rolls out V1 of Accelerate. He acts as the aggregator of market intelligence and customer feedback, sifting through the noise and making the call on product purpose and direction to ensure external and internal alignment. 
When making such decisions, Lichty prefers to look months or years ahead for trends in the market and for product positioning. His goal is to angle the company and the Accelerate product to serve specific industry needs. 
2. Tell us about your background. Where have you been, what have you done, and how did you get here to Aerial Vantage?
Lichty has spent the last 14 years of his career in aviation, working for a number of organizations with different interests. He started out with a weather impact research company, working with the FAA to uncover weather impacts on the National Airspace System (NAS) and providing recommendations on future enhancements for risk mitigation.
He also worked for a data exchange startup based out of the UK, acting as the CEO's right-hand person and building the company from the ground up. The company relied on flight data to share insights with outside organizations.
It was here that Lichty pivoted into a career at Mosaic ATM, leading the commercial division and working with the most prominent airlines in the world, including FedEx, UPS, Delta, and United. He had an important role in helping these airlines operate more efficiently to save them time, money and resources. During his tenure at Mosaic, Lichty began working with drones – and the rest is history. 
3. What led you to take on a career in the drone space?
"Moving to Aerial Vantage was a logical stepping stone," explains Lichty. "The drone space is an exciting place to be – there's a lot of innovation. As an airspace solutions company, Mosaic ATM naturally had a value add to the drone space industry."
Aerial Vantage was born out of Mosaic, as was Lichty's involvement in the company. He adds wanting a change of pace and the challenge he enjoyed from a startup. Most importantly, he wanted the opportunity to work with the amazing people that make up the foundation of Aerial Vantage and build something from the ground up. 
4. What is drone data management? What is the difference between data management and geospatial intelligence? 
Lichty explains that Accelerate is a geospatial intelligence platform. The term geospatial intelligence includes data management, data to information transformation, and data presentation. Lichty explains that drone data management is the process of collecting data, storing it, and using it in a secure, efficient, cost effective manner. Data management is a foundational component of geospatial intelligence on which everything else is built. 
After managing the data, the focus becomes turning data into information. The focus here is on deriving information from images and data associated with a specific location. This data is not solely limited to drones, but also includes ground based, crewed aircraft and satellite data. Geospatial intelligence typically ends with providing answers to questions customers want from the data and solving a problem that brings business value. 
5. How can industries benefit from data management/geospatial intelligence? Which industries are you focused on?
When looking at specific industries, Lichty points to how Aerial Vantage can help organizations uncover valuable information about farms, fields, and forests that they didn't know before because they didn't have the images available. He stresses that collecting an image is only the first part in solving a problem. There's data behind every image, and it is important to be able to extract and digest it in a way that makes it valuable for the decision maker. 
The opportunity presented by drones is huge – so broad, that a startup like Aerial Vantage must decide where to focus. Lichty does this by understanding what the customers are saying and narrowing focus by proving use cases for clients, such as a method of flying or deploying different sensors for different outcomes. 
"There are many ways to use drone data with different implementations and algorithms. With every company we talk to, there's more use cases that we uncover," Lichty says. "These grow every day. Being able to focus on one, two, or three use cases instead of all of them is important." 
According to Lichty, any industry can use geospatial data to make decisions. Aerial Vantage currently serves precision agriculture, first responders, and forestry clients. Drones are presenting new opportunities for industries that haven't operated by gathering insights from images in the past. But with this new technology comes new challenges. 
"Ultimately, this is a mindset change and we have to break down barriers of human adoption which can be challenging," Lichty states. "As we start to focus on industries such as forestry, precision agriculture, and disaster management, there's the technological barriers and then there's the human side of things on how they want to interpret and make decisions from data."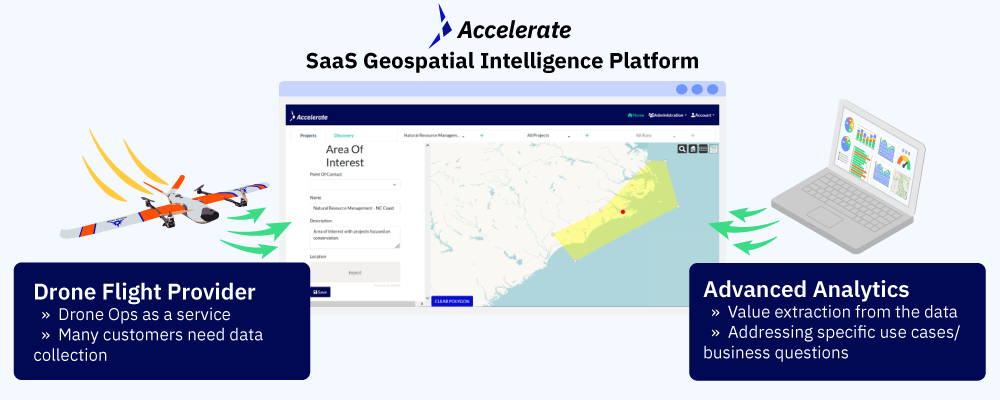 6. Tell me about the launch of Accelerate. Where do you see the SaaS platform going?
Accelerate V1 is a geospatial intelligence platform which handles the collection, management, and processing of data to turn it into useful information. As the first version of the product, there's plenty of room for growth in the pipeline as the company better understands customer needs, such as processing requirements for different industries. The analytics engine in Accelerate will become more sophisticated in order to accommodate these requests.
Accelerate offers an individual plan, a plan for small businesses, as well as an enterprise plan for larger companies. When Lichty looks ahead, he notes that the future of the SaaS platform is going to be very robust, allowing for advanced analytics and hosting algorithms brought from partnerships such as universities. 
"Accelerate is a clean, integrated and seamless platform. If you have a drone out there flying, we provide you with information to make decisions and we also handle all the data processes in between to get to where you need to be and achieve your goals." 
7. What is your outlook on the future of drone technology? How does Aerial Vantage play into this?
"Accelerate is largely being built for the problems of the future," Lichty states. "There are others out there. However, there's a lot of challenges with them. As we see the industry progress towards BVLOS operations and from a single pilot with a single flight, to multiple drones being flown by that pilot, the amount of data collected is going to increase exponentially." 
Lichty speculates that this massive amount of data is going to continue to cause strain and slow down user adoption. The benefit of Accelerate V1 is that it is built to anticipate and solve these pain points that are on the horizon. The Aerial Vantage team is bringing its vast experience in aviation space and advanced analytics to fine-tune the Accelerate product to withstand technological and regulatory hurdles in the U.S.
"Scalable, flexible, integrated, efficient, sustainable," Lichty lists. "These are the buzzwords I'd associate with Accelerate." 
8. If I were looking for an organization to provide a drone data program, why would I choose Aerial Vantage?
As a drone service provider, flying drones at scale to collect massive amounts of data, understanding how the Federal Aviation Administration (FAA) works is important. What sets Aerial Vantage apart is the valuable connections the company has within the industry. 
"Aerial Vantage isn't your traditional drone organization," says Lichty. "We have lived and breathed operations on the commercial side and have done a lot of work with the FAA."
In fact, the Aerial Vantage team has close ties with the FAA, and has been hard at work in closing the gap in the industry for many years. 
"When it comes to the FAA, we've constantly focused on building bridges rather than walls," says Lichty. "As the governing power of United States airspace, the industry evolves along with the FAA. We need to have a company pushing progress forward to communicate needs and understand processes, so we can get certifications more quickly." 
The team also has other valuable connections in the industry, such as with state departments of transportation, including North Carolina and Ohio, and with Mosaic Data Science, a renowned data science consulting company. 
Mosaic has a rich history of solving analytical problems for industries across the globe for some of the biggest companies. This makes Aerial Vantage well-equipped to handle analytics for various use cases and industries.
"The people that work at Aerial Vantage, the partnerships, and the companies we're working with are outstanding," says Lichty.
"Everyone at the company shares a great vision for the future – relying on a high-quality product to make an impact. All the decisions we make internally are centered on this goal."
Lichty adds that the Aerial Vantage crew is made up of like-minded individuals whose main focus is on trying to make a difference and change the world. And it is this passion that is the true recipe for success at Aerial Vantage.
Ready to jump on board this rocket ship? Discover how your organization can benefit from our range of drone technology services. Contact us today and start getting the most out of your data.